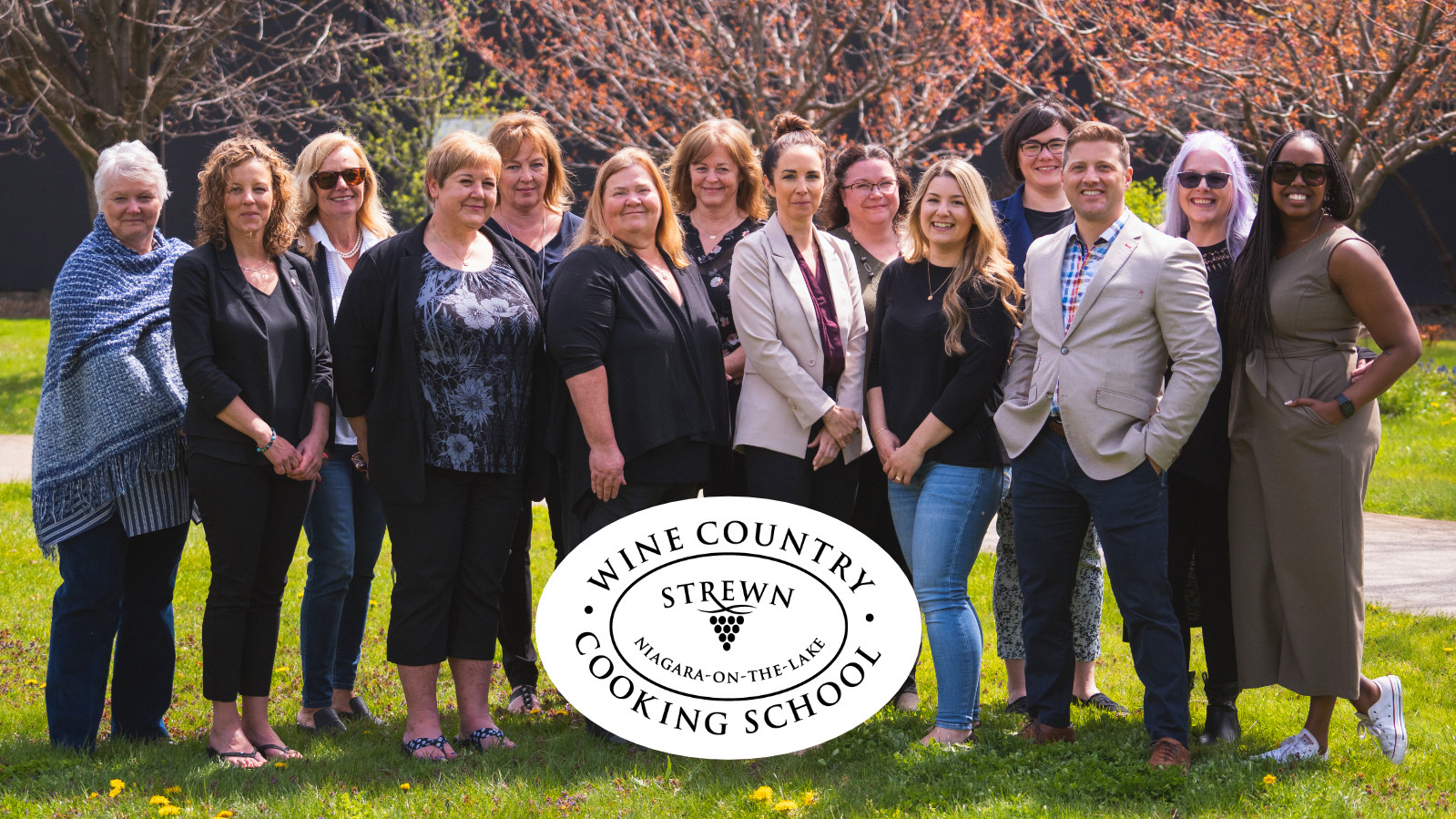 05/26/2022
Local Love: The Wine Country Cooking School
Being a smaller insurance brokerage, our close-knit team of rockstars continuously goes above and beyond for our clients. As a show of appreciation, Erion President Scott Maskell arranged for the team to come together from our various offices to enjoy an amazing day of cooking, eating and local wines!
Our staff attended a cooking class at the Wine Country Cooking School, located within the award-winning Strewn Winery in Niagara-on-the-Lake. Our chef for the day, Jane Langdon, guided the team as we created a wonderful meal that was incredibly flavourful while also not being too complicated even for the most novice chef! Afterwards, we relaxed and dined on our tasty creations while learning about (and enjoying!) the perfect wine pairing to complement each dish.
"10/10 I would recommend this for a great team bonding or even a fun group date night experience." - Nella

"Jane managed to single-handedly teach the entire class and was generous with the wine!" - Sophia

"I'm not stellar in a kitchen environment but I really, really enjoyed the entire day." - Kris
The Wine Country Cooking School offers a beautiful bright kitchen with all the tools of the trade. The cooking class was both fun and informative, with lots of easy kitchen tips that can be used in your everyday life. The kitchen was filled with laughter and smiles as everyone enjoyed coming together in person for some light-hearted, post-pandemic fun!
Committed to sharing delicious, healthy meals using seasonal ingredients, the Wine Country Cooking School is a fantastic place to spend the day creating memories with loved ones or a fun team-building activity for a group excursion. They also offer gift cards, so there's no need to struggle the next time you're searching for an entertaining and unique gift that's sure to delight!
Wine Country Cooking School
1339 Lakeshore Road, RR#3
Niagara-on-the-Lake, ON, Canada, L0S 1J0
Tel: 905-468-1229
Fax: 905-468-8305
Email: jlangdon@strewnwinery.com