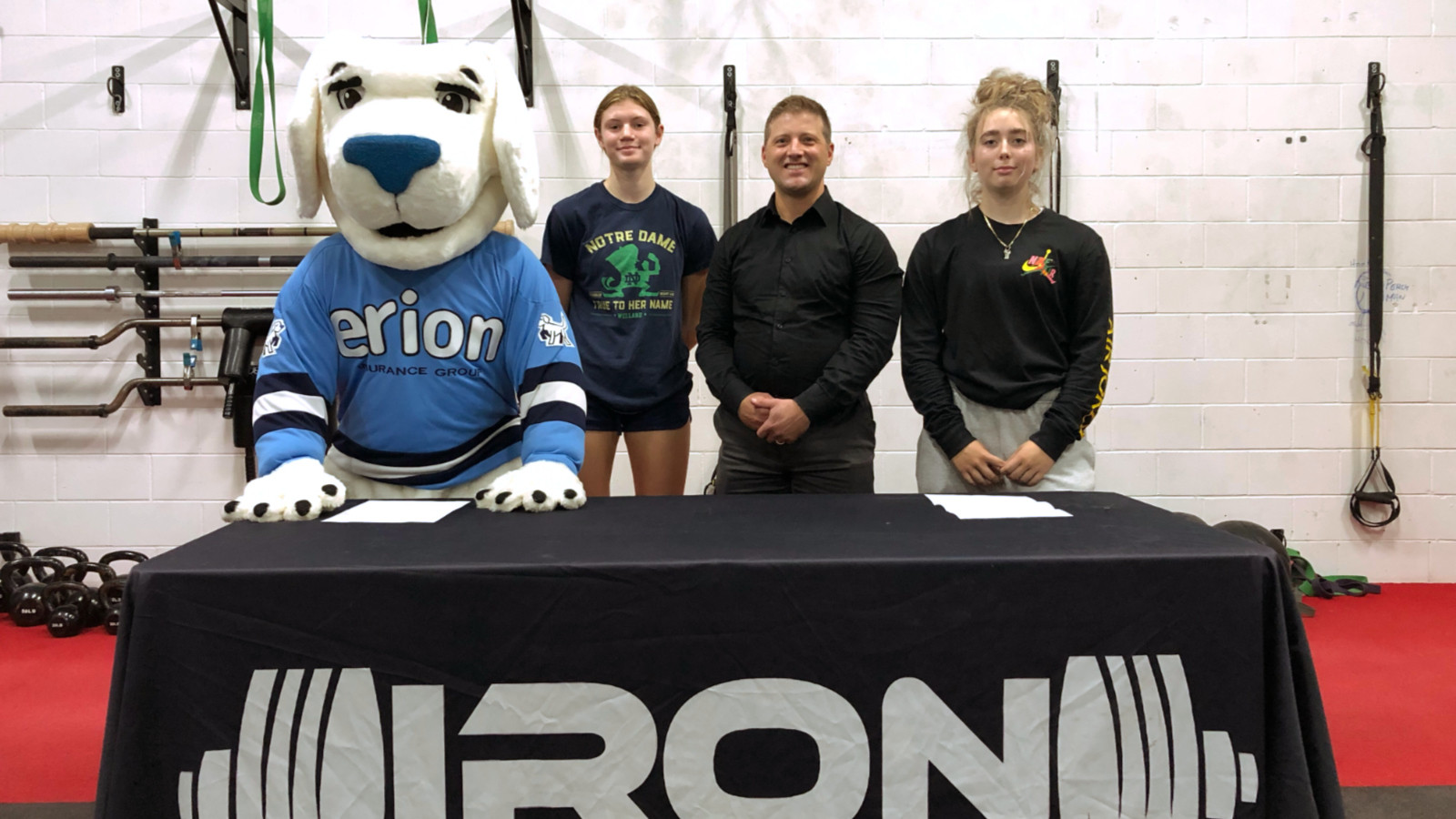 10/21/2021
Erion Insurance Athletic Performance Training Grant Awarded
With the Erion Insurance Athletic Performance Training Grant, we sponsor a student athlete and fund their performance training at the Iron Performance Centre with the goal of assisting them in their pursuit of an athletic scholarship. We created this grant to give back to the community in a unique way by supporting the important connection between education and athletics.
This year I decided on two athletes, as it was important to me to see that young, promising members of our community can leverage their strong educational work ethic with their athletic performance to move themselves forward in life.
Covid has impacted young student athletes in Canada as more strict Health restrictions have put our youth in an impeded position relative to youth in the USA, who our country's athletes are competing against for scholarships. This grant will help them make up that ground with performance training.
We are so pleased to be awarding the Erion Insurance Athletic Performance Training Grant to Cassie Orr and Sophia Saldutto. These two young women are students at Notre Dame High School in Welland, are both track and field stars, and members of the Thorold Elite Track Club.
My grandfather Ernie Maskell, one of our former owners, was a strong track athlete in hurdles and I have great admiration for track and field athletes. We would like to wish Cassie Orr and Sophia Saldutto the very best in their training with the Iron Performance Centre and achieving their education and athletics goals.
Scott Maskell
President
Erion Insurance Group
A message from Cassie:
My name is Cassie Orr, l am 13 years old and in grade 9 at Notre Dame high school in Welland. I have been involved in sports my whole life, currently playing competitive volleyball for the Niagara Rapids and have been for the past 3 years. Around the same time, I started playing for Rapids I also joined Thorold Elite Track Club (TETC) where I compete in javelin, shot put, high jump, long jump, hurdles and a few running events.

The reason I joined TETC is because I really enjoyed participating in school track and field and wanted to get more involved and also more competitive in the sport. Since joining TETC coach Steven Fife has introduced me to many new events and offered me many opportunities to compete in local and provincial meets.

During my high school years, I would like to continue playing volleyball and track & field on both the school and club teams, which will hopefully lead me to pick a sport or certain event to focus on and try to receive a scholarship for my post-secondary education. I hope to keep sports as a part of my life and I would like to be involved with it in my future career.

I would like to thank you for this opportunity to train at Iron Performance to improve my physical strength, speed, and overall agility. Receiving this grant means I can strength train while competing in the Ontario Volleyball Association league as well as continuing indoor event-specific track training.

Thank you again for this opportunity and I am looking forward to working with the lron Performance coaches.

Cassie Orr
A message from Sophia:
Hello, my name is Sophia Saldutto and I am writing to you, to thank you for your generous grant. I am so excited to start my off-season strength and conditioning training at lron Performance. I am a high-performance track & field athlete that specializes in the throws. My primary throw is Javelin, but I also throw Hammer & Discus, as well as Weight Throw in the indoor season. I originally got into track & field, following in the footsteps of my older brother & sister, who are both high-performance track athletes.

My sister is currently on an athletic scholarship at the University of Toronto and my brother is on a scholarship at the University of Louisiana Monroe. ln fact, he represented Canada at this year's World Athletics U20 Championships in Kenya. Track & field is part of my family. I am currently ranked 2nd in Javelin, and within the top 5 in Hammer & Discus, nationally, and hope to improve that to #1 in Javelin before the end of this season. I am very committed to my athletics but school always comes first. My end-of-year average for Gr. 10, which included Gr. 11 math, was 93%, and I hope to keep that average for my upcoming grade 11year. I am looking to get a full scholarship for my undergraduate degree to a D1 school in the U.S. and compete in the NCAA championships. I also hope to have the opportunity to represent Canada on the international stage. After my undergraduate degree, I am looking to go to graduate school, perhaps even overseas.

My throws training requires my family to drive to Toronto several days/week and gets very expensive. This grant will make it possible for me to get the very best strength & conditioning training, which will help my future performances, without putting additional financial pressure on my family. I am so very grateful & honored.

Sincerely,
Sophia Saldutto